Stand-alone mixers and fully automatic
mixing systems ensure high dough quality
and perfectly mixed doughs.
Spiral mixer
Helix mixer
Mixing systems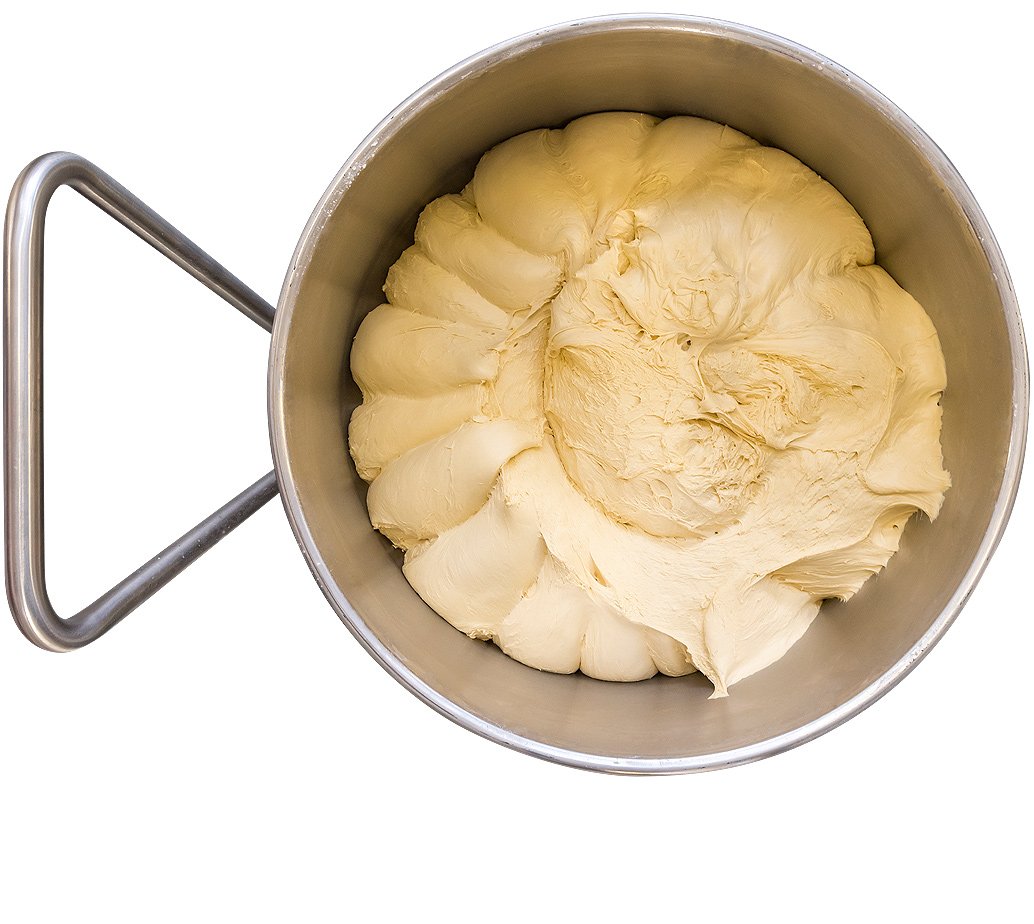 What makes the
quality of an optimal dough?
Good raw materials are essential for good doughs as the quality of water and flour significantly influences the dough quality. In addition to the raw materials, optimal mixing ensures the best product quality. Each dough has different requirements, soft doughs require a lot of tension and volume, rye doughs have to be mixed gently. Mixing tools matched to the type of dough increase the quality of the dough.
High dough quality through
sophisticated technology
When it comes to dough quality, there is nobody out there who knows the business better than us. Our systems are second to none, both in traditional dough processing relying on stand-alone universal mixers or single batch equipment, and in industrial dough processing with fully automated mixing systems precisely customized to specific production conditions. Our 3-zone mixing principle always ensures optimally mixed doughs.
Fully automatic mixing systems
WP Kemper mixing systems are customized to the specific product and process requirements of industrial bakeries to ensure optimal integration and networking of all parts in the overall process.
Intelligence
Monitoring systems and higher-level control systems are now almost commonplace in most bakeries. A mixer, which independently controls the mixing process and ends at the optimum time, that is new.


3-zone mixing principle
All WP Kemper spiral mixers (mixing systems and stand-alone mixers) are equipped with our proprietary 3-zone mixing system. This patented process adds more oxygen to the dough, producing soft, easy to process doughs in reproducible quality.
Service
The use of monitoring systems to control all relevant component temperatures and central lubrications for moving components offer maximum reliability and extend the service life of our mixers and mixing systems. Sometimes it happens and a damage occurs. With our Serviceline 24/7 we are always available to initiate and implement the necessary actions as quickly as possible.
Highest dough quality
Because doughs made with our mixers are aerated and easy to process.


Reliable
Through resilient materials and high manufacturing accuracy.


Versatile
The right solution for every dough requirement.


Low personnel deployment
The intelligent control of the mixing systems leaves room for the efficient use of the personnel.
WP KEMPER
KEMPER
MIXING
Our sales representative will gladly answer your questions about our mixing solutions.