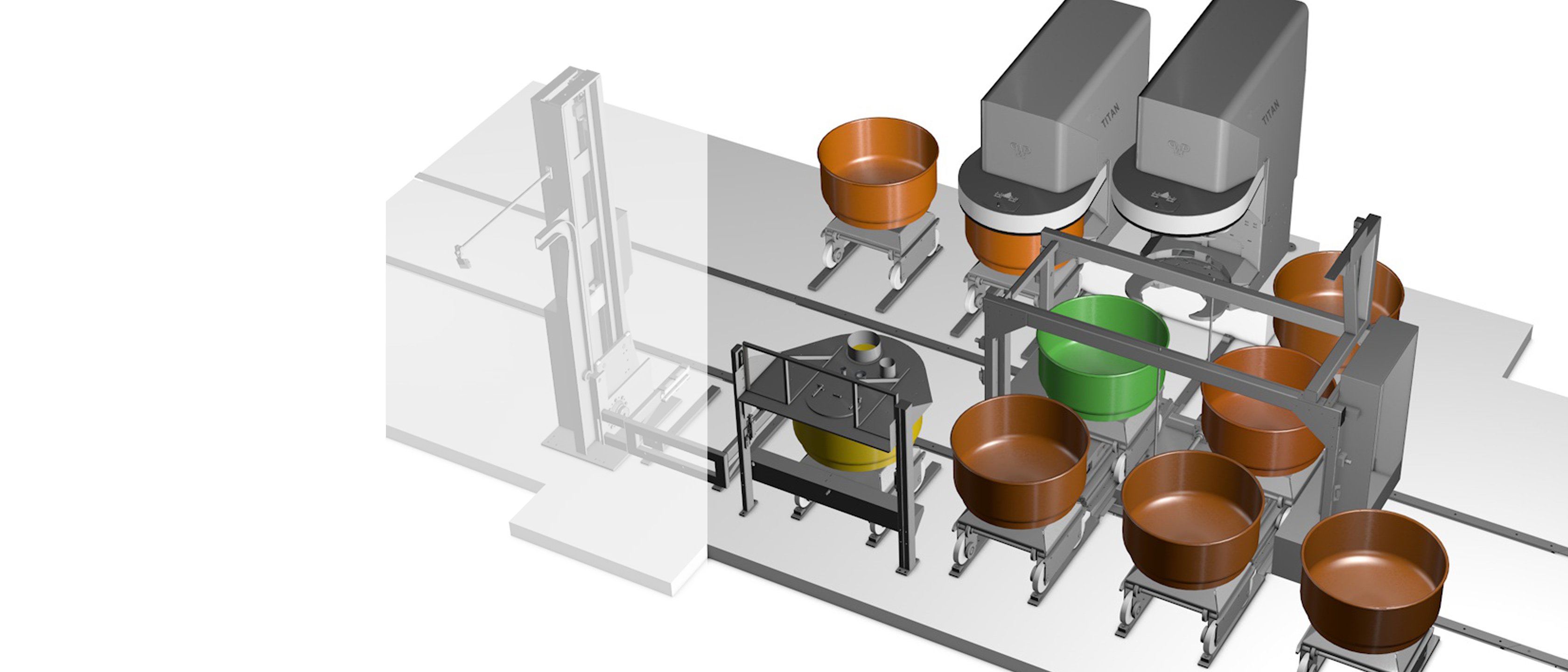 Mixing system
TITAN LINEAR SYSTEM
The large linear mixing system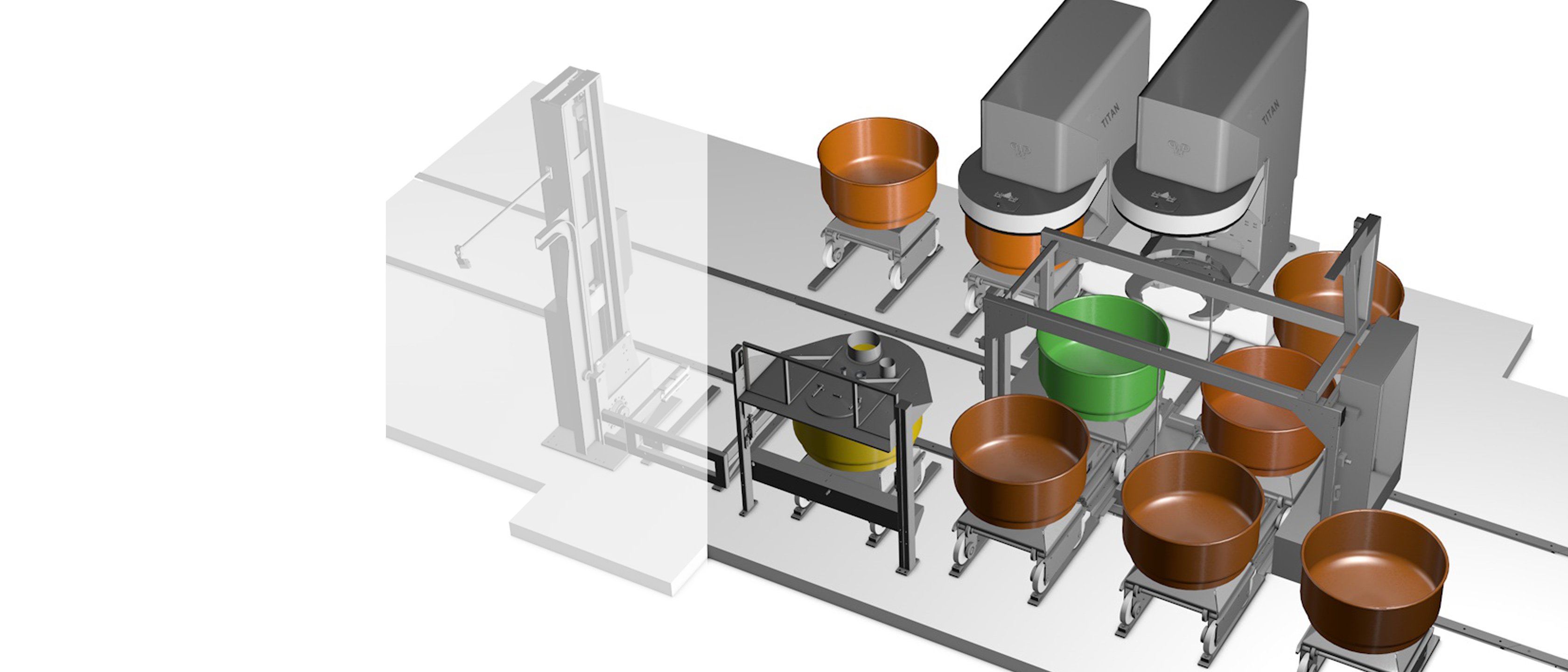 High dough quality
Flexible
Accessible
Mixing system TITAN LINEAR
Flexible and accessible, the new ease in industrial dough production
With the TITAN LINEAR SYSTEM you can realize different resting times, a high dough capacity and the best dough quality (with highest automation). The bowls are moved quickly and reliably by a carrier.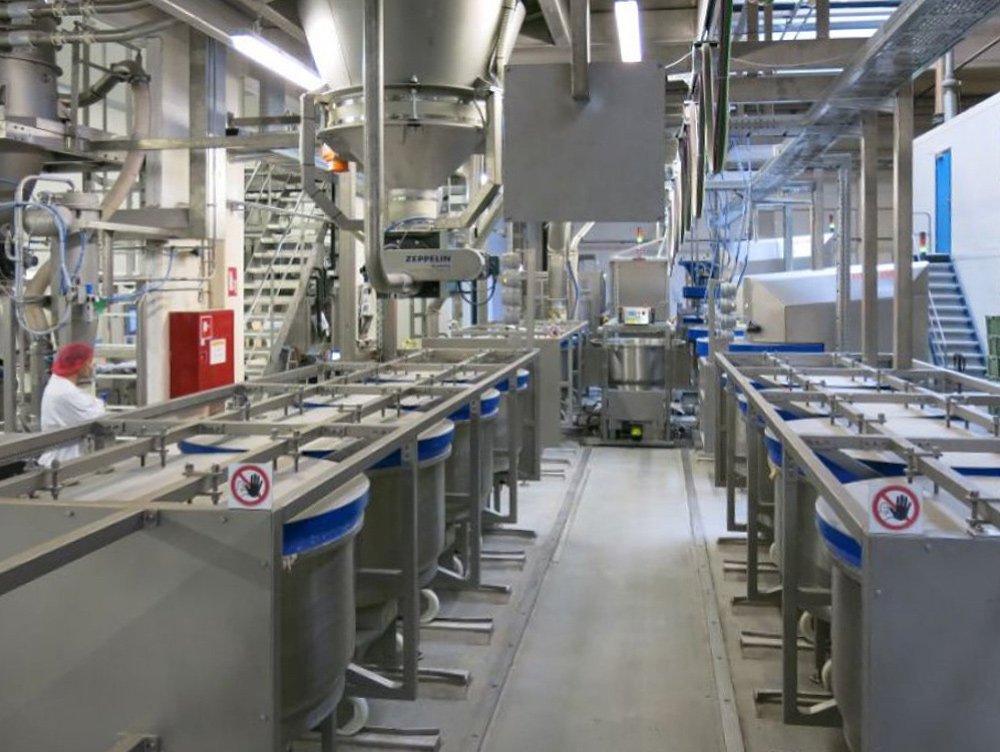 Performance
Fully automatic dough production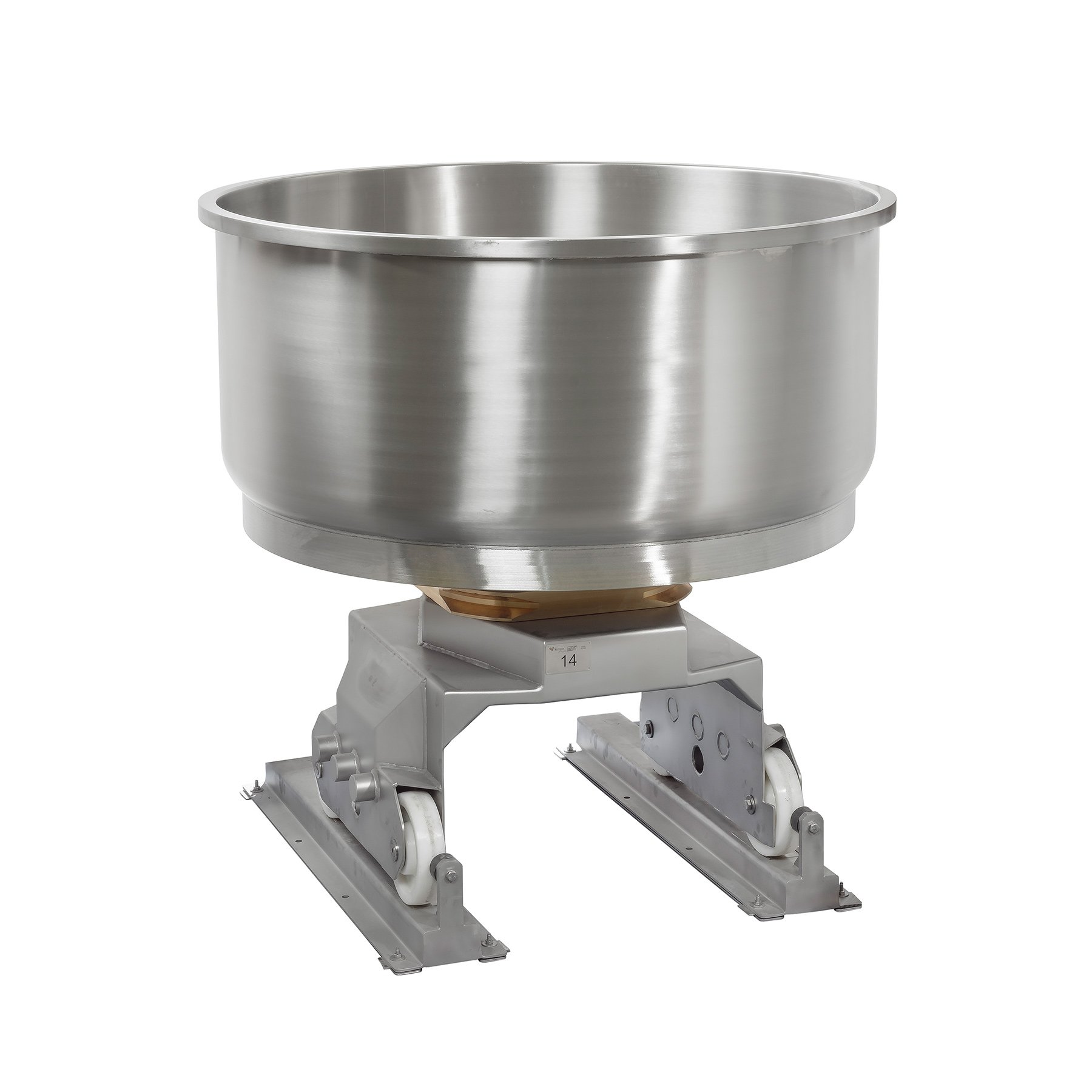 Mixer bowls
Mixer bowls made from stainless steel
Dosing module
For an automatic charge of ingredients and lid for a manual add of components. With dust protection and connection to a dust extraction system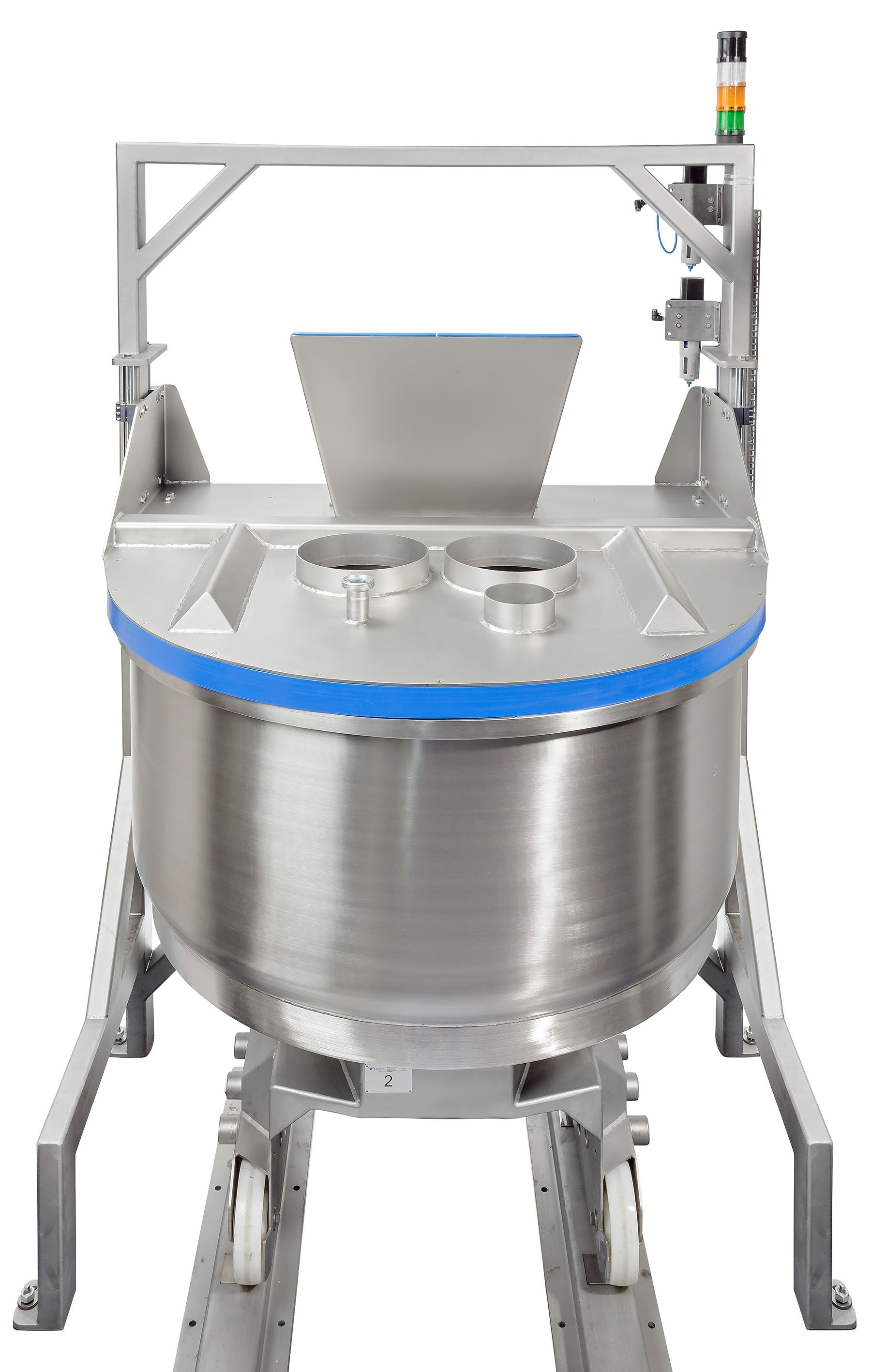 Spiral mixer TITAN
As single or double spiral mixer
Bowl transport
Bowl transport rails for the double carrier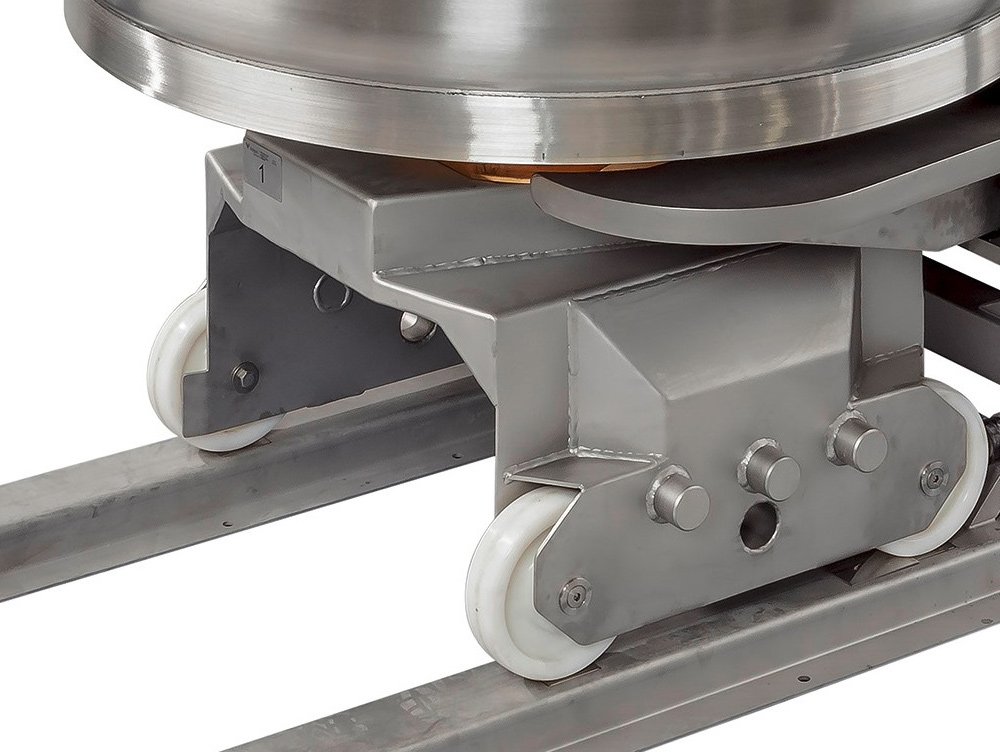 Other features
Temperature sensor PT100 for measuring the internal dough temperature in the guide bar
Bowl scraper to scrap of dough residues from the bowl walls during the mixing process
Revolution counter counts the revolutions of the mixing tool and enables to stop the mixing process after a defined number of revolutions
Monitoring System monitors all relevant bearings, drives and hydraulic systems and informs the operator about deviations
Dough resting area - the number of spots and the resting time can be chosen individually
Double carrier for the transportation of two bowls to the defined spots. The carrier is equipped with its own drive. Floor-based execution without platform with laser-controlled movements (self-moving).
Bowl tipper HK 200 in space-saving column design to transfer the dough to subsequent machines
All-round protective enclosure via protected doors


High performance, maximum benefits and modular options
All parts of the TITAN LINEAR SYSTEM are designed for the long-term use in 3-shift operation.
Dough quality:

3-zone mixing system: Reproducible doughs, high dough quality

Performance:

Parallel production of two different types of doughs
Flexible dough resting times
Bearings, drives and the hydraulic system are monitored permanently

Daily use and maintenance:

Open and during production accessible design
System can be expanded later
Hourly capacity:
1,200 - 6,400 kg dough
Resting time:
Up to 55 minutes
Options
Portioning hopper
Conveyor belt to transport the dough batch
Multi-phase control (inclusive with TITAN 400 DS)
Interface for dosing
Energy measurement
Bowl scraping station for the bowl tipper for a clean transfer into the hopper
Dough residue guard
Bowl cleaning module
For a high dough quality
High oxygenation and homogeneous doughs thanks to the 3-zone mixing principle, even at high output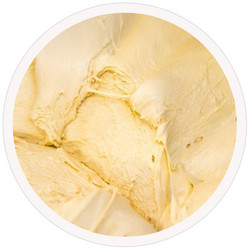 Wheat doughs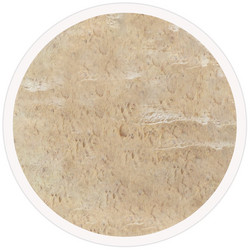 Mixed wheat doughs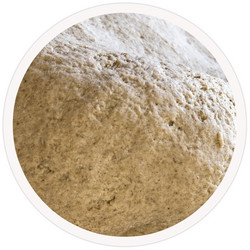 Mixed rye doughs
WP Kemper
+49 5244 402-0

Our sales staff will answer your questions about the product.