Cooperation
Cooperation with universities and research projects for the development of intelligent innovations.
Collaborations allow us, to pursue our developments with a wide view in the future. To take advantage of the latest results from research and development, we collaborate with research institutions such as universities.

Both, research institutions and we, see this kind of cooperation with benefits on both sides. Participation in research projects is also enabled with the support of research institutions and offers us the opportunity to do basic research with the assistance of experts.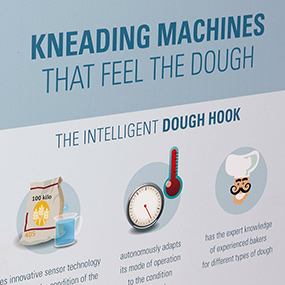 Project "Intelligent mixing process"
It´s OWL technology network – innovation projects – intelligent mixing process
The aim of the project was, to develop a mixer, which can feel the dough like a baker and use this for a self-optimizing mixing process. So, in the future it should be possible to produce optimal doughs, even without expert knowledge.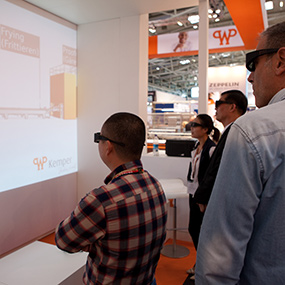 Project "3D Berliner (Ball Donut) Production"
In cooperation with the Fraunhofer Institute in Paderborn, a complete Berliner (ball donut) production line has been shown by means of a simulation software in a CAVE (Cave Automatic Virtual Environment), at the iba 2015 in Munich. Visitors experienced, by the use of stereoscopic glasses, the industrial, fully automatic Berliner (ball donut) production in 3D.