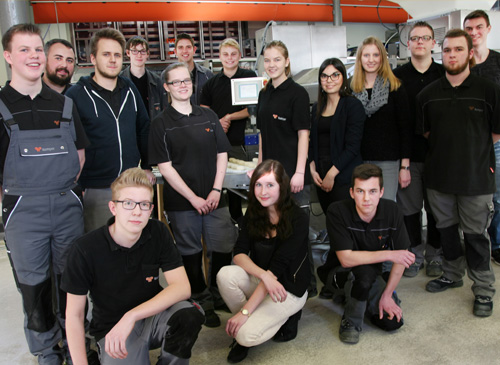 WP Kemper develop and manufacture
bakery equipment for bakers all over
the world. As a company accredited for
education, we put high emphasis on
qualified job training.
Apprenticeship
TEAMWORK is important for us
Established as a family business, the company WP Kemper employs 150 employees, most of them have been trained in our company, were able to continue to develop and found their professional home. TEAMWORK is important for us and a good team spirit is supported and demanded. This is also reflected in a familiar working environment, in which everyone can produce new ideas and assume responsibility. Space for personal development is created through flat hierarchies and flexible working hours.
Zum 01. August 2021 suchen wir engagierte Persönlichkeiten für folgende Ausbildungsberufe:

Wenn Sie an einer qualifizierten Ausbildung interessiert sind und mit Begeisterung Ihre Zukunft gemeinsam mit uns gestalten möchten, freuen wir uns auf Ihre aussagefähigen Bewerbungsunterlagen vorzugsweise per Mail oder auf dem Postweg an unsere Personalabteilung.
Mit der Abgabe der Bewerbung willigt der Bewerber in eine Speicherung der personenbezogenen Daten während des Bewerbungsverfahren ein. Ein Widerruf dieser Einwilligung ist jederzeit möglich.

Wir verwenden die Daten ausschließlich zum Bewerbermanagement. Soweit wir diese Leistungen für unsere Tochter- bzw. Schwestergesellschaften übernehmen, willigt der Bewerber ein, dass wir die Daten auch an die jeweilige Tochter- bzw. Schwestergesellschaft weiterleiten. Die Bewerbungsdaten vernichten wir drei Monate nach Abschluss des Bewerbungsverfahrens.
---
Human Resources Department
+49 5244 402-4242
---
If you are interested, please send your application to:
WP Kemper GmbH
Siegfried Alteilges
Lange Straße 8-10, 33397 Rietberg
personal@wp-kemper.de