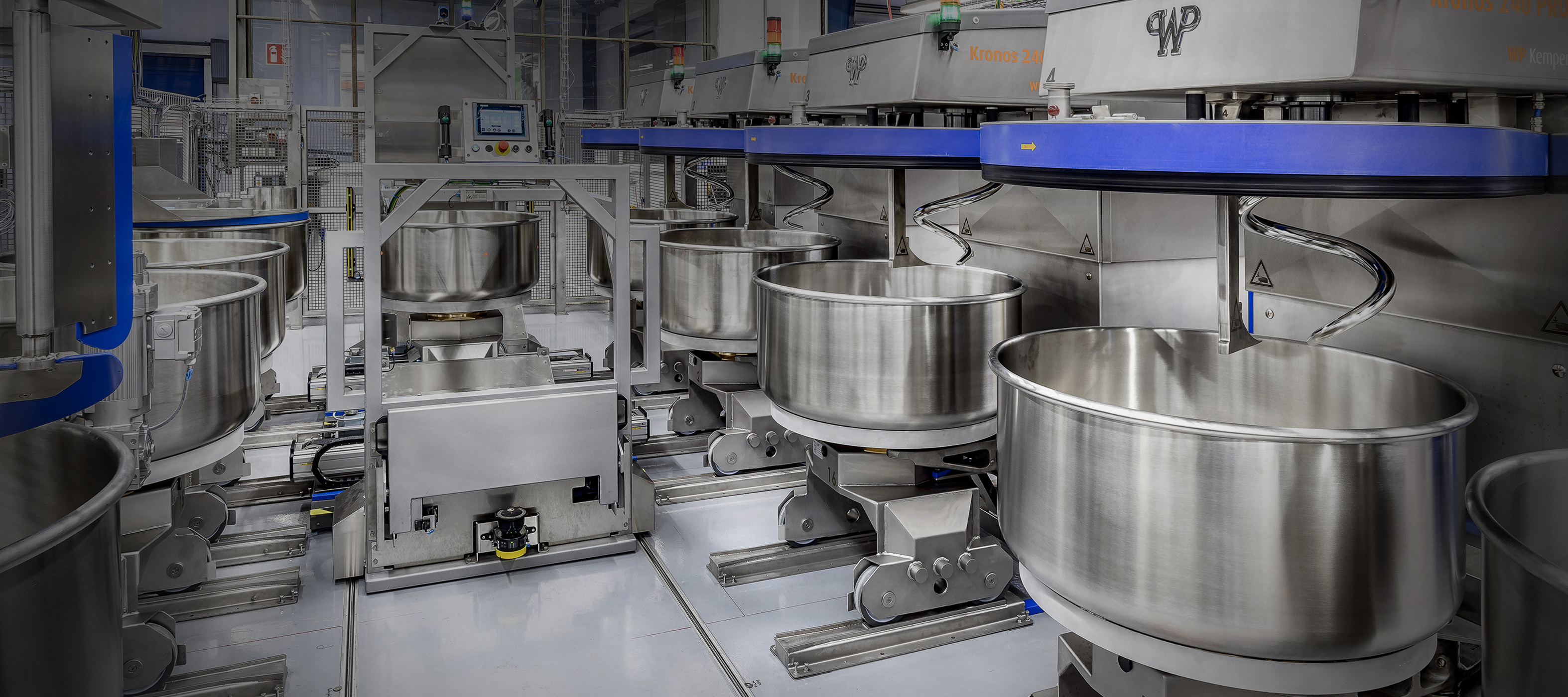 Mixing system
KRONOS LINEAR
The universal mixing system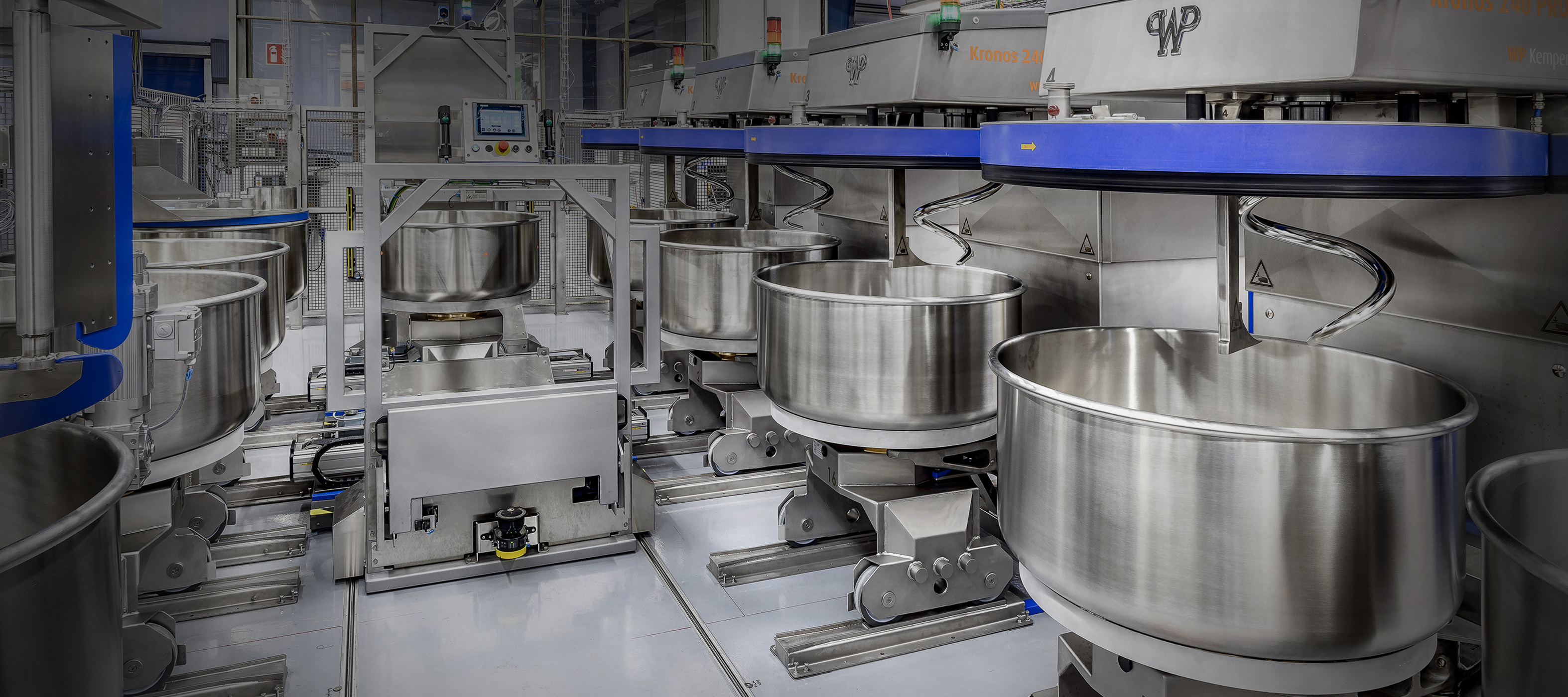 Mixing system KRONOS LINEAR
The focus in industrial dough production is on dough quality and on the operational efficiency of the mixers and mixing systems. The 3-zone mixing principle in the mixers used ensures soft, ideally mixed doughs. The flexibility of the KRONOS LINEAR SYSTEME enables the achievement of long dough resting times with high performance. Different type of doughs with different dough resting times can be produced at the same time. The system can be expanded at any time.
Advantages and benefits of the
universal mixing system KRONOS LINEAR
For the fully automatic dough production
KEMPER 3-zone mixing principle
All KRONOS mixers are equipped with a spiral and guide bar. The resulting air turbulance adds more oxygen to the dough, producing airy, easy to process doughs in reproducible quality.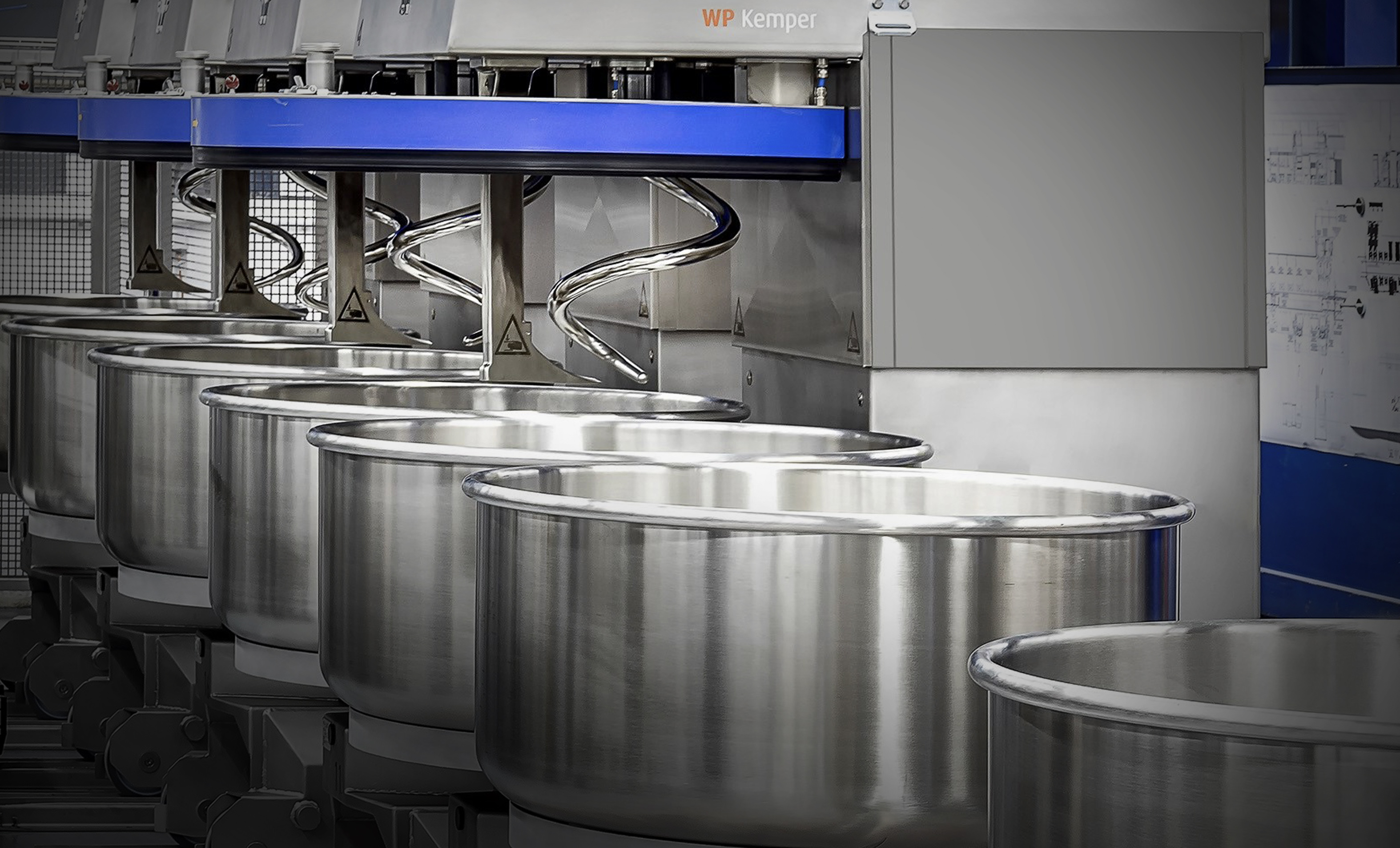 Double carrier for easy moving
Carrier single or double: Self-propelled and rotating cleaning brushes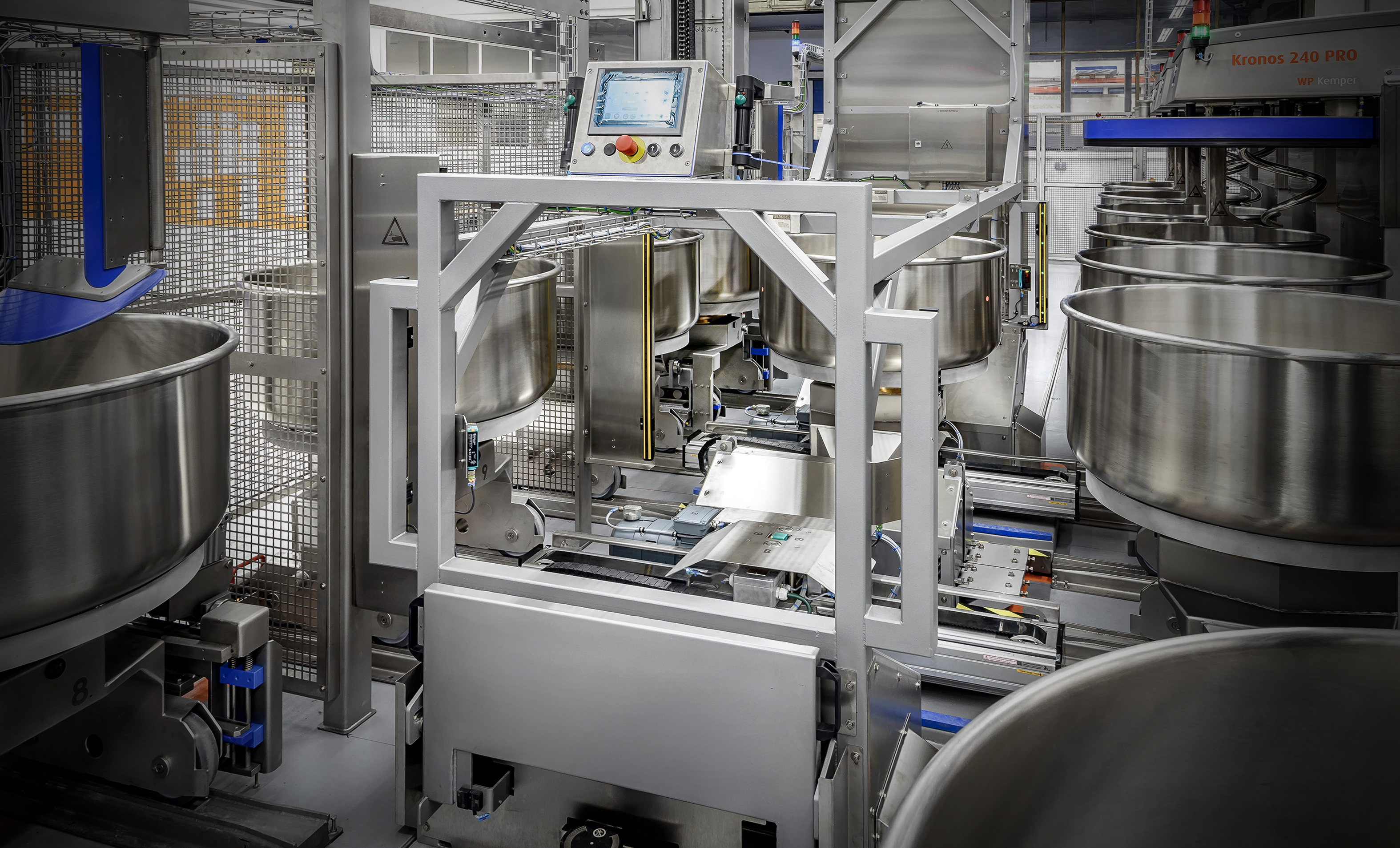 Capacity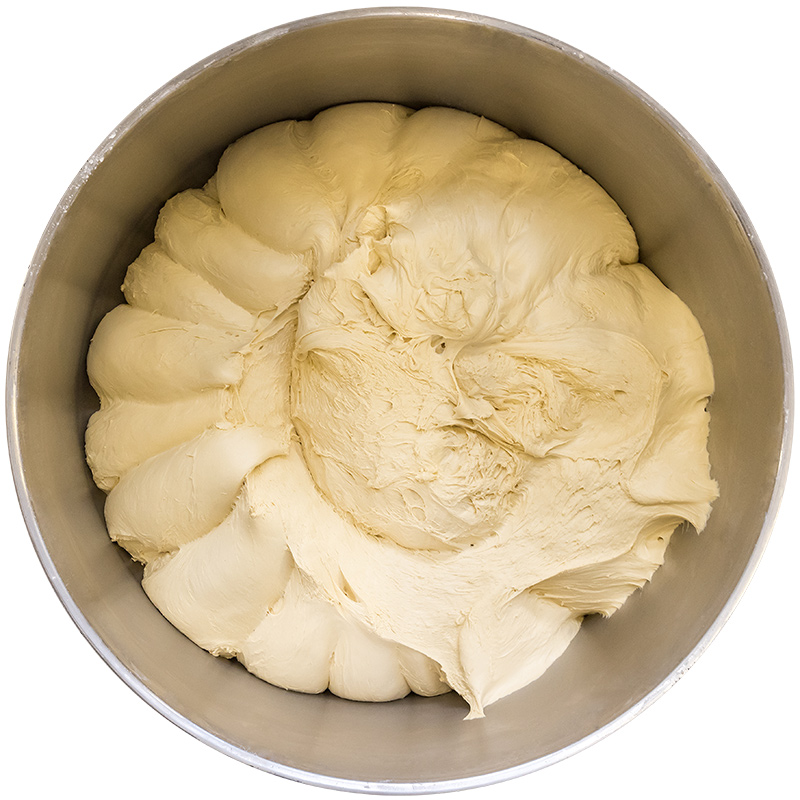 Equipment and options of the
universal mixing system KRONOS LINEAR
For reproducible doughs with high quality
We develop and build all our production lines and machines completely in our own company. The decisive performance features of our lines are their high functional reliability, their excellent proftability and the consistently high quality of all products they make.
Options
Our mixing systems are always customized solutions and the options range from dosing to dough resting and dough feeding including portioning. This way, each mixing system fits your needs perfectly.

KRONOS LINEAR SYSTEM as "KROMix" version with the high-speed mixer DymoMix from Zeppelin Systems
Very gentle to the dough
Blending of dry and liquid ingredients by centrifugal force during dosing
40% shorter mixing process, the DymoMix already produces an immediately mixable dough during dosing
Higher capacity due to shorter mixing process
Easy accessibility
Through our ground-level rail system and an open construction. Thanks to modern safety technology, access is also safe during operation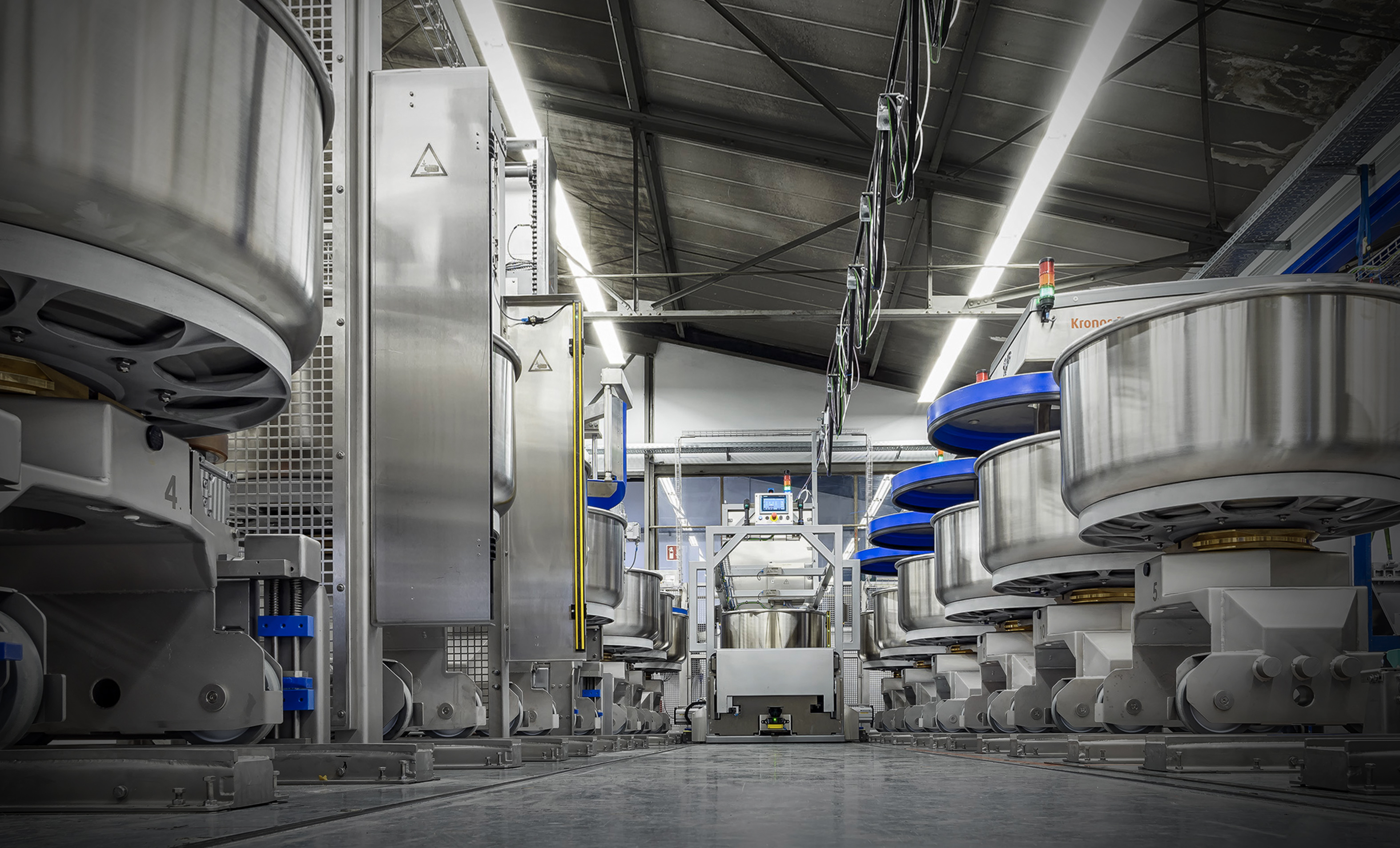 Product variety
Every production process in the bakery starts with dough processing. It is the first step, decisive to the quality of the entire process and the final product. Bakers are on the safe side with our mixers and mixing systems.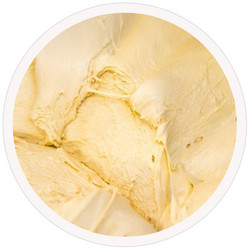 Wheat doughs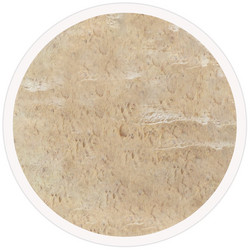 Mixed wheat doughs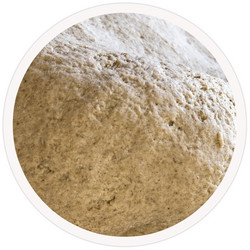 Mixed rye doughs
Service and support
We make sure that your production lines run.
Prevention
Our goal - reduce machine downtime and make them predictable through proactive maintenance.
Service 4.0
Well planned digitalization can achieve significant performance increases, and enhance the value of machines and equipment.
WP SERVICELINE
The WP SERVICELINE 24 is our guaranteed connection to the WP SERVICE and outside our opening hours to our emergency service.