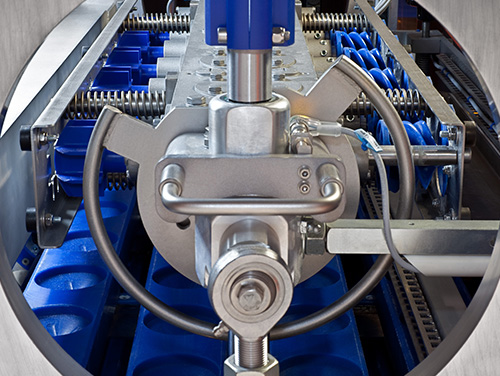 FutureWork
The future always starts right now,
and it starts over and over again.
Future projects
Entwicklung eines Sensor-, Steuerungs- und Leitstandsystems mit Cloudanbindung für die Kleingebäcksproduktion zur Vermeidung von Ausschuss und Überproduktion
Für eine effiziente und qualitativ hochwertige Kleingebäcksproduktion werden heute hoch automatisierte Produktionsanlagen eingesetzt. Doch selbst die neuesten Hochleistungsanlagen können Ressourcenverluste nicht vollständig vermeiden. Neben den teilweise unvermeidbaren Anfahr- und Auslaufverlusten bei einzelnen Produktionschargen, entstehen aufgrund schwankender Mehleigenschaften und wechselnder Umgebungsbedingen immer wieder Produkte, die den Qualitätsvorgaben des Bäckers nicht genügen und vernichtet werden. Zudem gibt es heute häufig das Problem der Überproduktion. Denn die Bedarfsmengen sind im Vorhinein nicht genau bekannt. Auf die ermittelte Netto-Menge wird ein Sicherheitsfaktor aufgeschlagen, um Verluste die durch mangelnde Produktqualität entstehen können, auszugleichen. Nicht zuletzt werden aufgrund steigender Hygienevorschriften die energieintensiven Reinigungen der Gärbehälter in festen, oft zu häufigen Intervallen durchgeführt, da der tatsächliche Hygiene-Zustand der Maschine aktuell nicht berücksichtigt werden kann. Aus demselben Grund kann es an anderen Stellen zu Verunreinigungen kommen, die vom Bediener erst spät bemerkt werden. Vor dem Hintergrund ist das Gesamtziel des Projekts daher, diese vielschichtigen Ressourcenverluste signifikant zu reduzieren.
Das Vorhaben gliedert sich in folgende Teilziele:

1. Es soll ein Sensorsystems entwickelt werden, das an mehreren Stellen im Produktionsprozess detektiert, ob die Teigrohlinge den Qualitätsvorgaben in Gewicht, Form und Teigeigenschaften genügen. Dieses Sensorsystem soll an den entsprechenden Stellen auch den Hygiene-Zustand der Anlage beobachten.

2. Entwicklung einer Inline-Prozessregelung, die zwei Aufgaben erfüllt: Zum einen werden die Prozessparameter der Maschine kontinuierlich so geregelt, dass eine optimale Produktqualität gewährleistet wird. Zum anderen werden Teiglinge, die dennoch nicht den Qualitätsanforderungen entsprechen, automatisch ausgeschleust und dem Teigmaterial zur Wiederverwendung zurückgeführt.

3. Entwicklung eines cloudbasierten Leitstandsystems für die Kleingebäcksproduktion, das als Leitstandsystem aus den Informationen der Bäckerei-Kassensysteme und den Prozessparametern der Produktionsanlage automatisch die zu produzierende Brutto-Bedarfsmenge berechnet, um so eine Überproduktion zu vermeiden. Durch die intelligente Vernetzung mit anderen Anlagen über die Cloud, wird ein automatisierter Wissensaustausch im Hinblick auf eine optimale Prozessführung erreicht.
Projektpartner:

Heinz Nixdorf Institut
Fraunhofer IEM
CLK GmbH
myview systems GmbH
Bisherige Ergebnisse:

30.04.2019: Kick-Off Treffen
Future & Research
We invest extensively in research and development, and we are involved in numerous research projects, especially in future technologies. Industry 4.0 digitalization is an integral part of our developments focused on networking our systems, implementing new sensor technology for controlling machines, and using autonomous systems wherever they make sense.
KRONOS digital
The intelligent mixer
We teach the mixer to feel - expert knowledge is transferred to the mixer, thus it automatically stops the mixing process at the optimum time. Doughs are produced in reproducible, always equal dough quality, regardless of raw material properties and environmental conditions, as well as the training and experience of the responsible employees.
Doughs in optimal quality
Reproducible, because defined determining factors are considered
Independent of personnel, because of self-adjusting mixer
Adaption to unsteady raw material and environmental conditions

Complete logging
Allows conclusions about production conditions and raw materials
Detectability of energy intake, environmental temperature, dough temperature etc.
OptiAmix
Additive manufactured components
Additive manufactured components (3D printing) allow to produce custom tools on customer request, e.g. stamping tools. Spare parts for old machines, where required tools are no longer available, can also be manufactured. In addition, dynamically loaded components can be produced more easily and robustly.
Methodic procedure
Consideration of the sub-steps of the product development process
Development of methods and tools for component selection and design
Development of design rules
ViControl
Visual Product Control
Our innovative, intelligent sensors for visual monitoring measures the products permanently in-line, any deviations from the target value are determined and displayed. At the same time, this data can be used for quality documentation.
ViControl offers
Fully-automatic visual production monitoring
Reproducible product quality during the production process
Documentation of all measurement results
Reduction of wastage
Increased profitability of the overall process