WP Kemper – think process!
As one of the world's leading and oldest manufacturer of innovative solutions for dough production and processing our common goal is your satisfaction.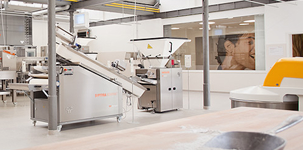 Baking Centre
A warm welcome to the WP Kemper baking centre. Experience the world of baked goods with all your senses.

Baking Centre
Events
At last, an American baker can bake as many Berliners as his customers want to buy. The first L2000A in the US makes it possible.

How can you achieve very best quality baking results? WP Haton takes a closer look at your bread and gives you the correct solution.