WP Kemper – think process!
As one of the world's leading and oldest manufacturer of innovative solutions for dough production and processing our common goal is your satisfaction.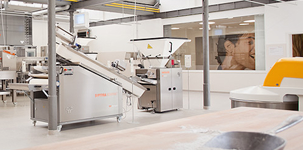 Baking Centre
A warm welcome to the WP Kemper baking centre. Experience the world of baked goods with all your senses.

Baking Centre
Events
Two important trend fairs will soon open their doors: Europain in Paris followed by Internorga in Hamburg a few days later.

Mediterranean-style bread and Italian Panettone cakes enjoy great popularity that extends far beyond Italy's borders. With the right technology, bakers from all over the world can succeed in handling these delicate doughs.