WP Kemper – think process!
As one of the world's leading and oldest manufacturer of innovative solutions for dough production and processing our common goal is your satisfaction.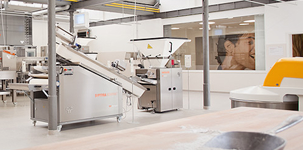 Baking Centre
A warm welcome to the WP Kemper baking centre. Experience the world of baked goods with all your senses.

Baking Centre
Events
Quality celebrated its birthday – or in other words: WP celebrated three anniversaries. Excellent machines and interesting topics for bakers around the world are good tradition for us. Our review summarizes the issues in the spotlight in 2014.

Whether cat, mouse or sparrow – creative bakers can produce a varied assortment from lye-treated dough.