Dough strip line PANE
The dough strip line for all rolls and breads
Produce a variety of artisan products like Ciabatta or Baguette with less stress. The individual treatment for your products. The modular design of the Pane-Line enables to adjust the line to market changes.
The Pane head machine can be combined with various modules
Baguette-Module
Paposeco-Module
Longmoulding station
Pinning and curling longmoulding station
Sheeting & curling longmoulding station
Stamping station
Kemper Key access control
Products
Baguette
Ciabatta
Paposeco rolls
Raising rolls
Chocolate rolls
Round rolls
Square rolls
Diamond-shaped rolls
Stamped rolls
Capacity
Weight range:
Square dough pieces: 10 - 1,500 g
Round dough pieces: 25 - 450 g
Hourly capacity:
Up to 12,000 pieces
Processing a great variety of round and square products
The Pane head machine can be combined with various modules
Optimal roundmoulding
Unique access for easy cleaning
Processing of dough with less stress
Gentle processing for open crumbed structure
Expandabilit
World of products WP Kemper

Snacks are trendy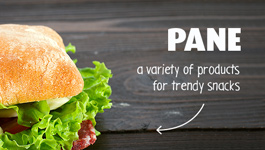 Presentation and tastiness count, since consumers are putting more and more emphasis on variety and quality. Discover Pane´s variety of products!

Please direct your enquiry.