Dough dividing machine QUADRO FILIUS
The Compact Dough Divider for Creative Bakers
The maximum of creativity with a minimum of space! Produce your own artisan and unique products with little staff assignment.
Stamping station
Various, individual stamping tools
Seeding device with rotary plate incl. automatic moistening system
Various roller knives
Products
Dough confectionary
Long dough sticks
Triangle rolls
Diamond-shaped rolls
Ciabatta bread/-rolls
Square rolls
Stamped rolls
Capacity
25 - 360 g (0.06 - 0.79 lb)
1,400 - 4,000 pcs./h
Dough absorption rate up to 70% (depending on dough)
Minimum space requirement due to only 1m² standing area
No 3 phase current connection required
Reproducible quality
Gentle dough processing also of extremely soft doughs
High product variety with a small footprint
World of products WP Kemper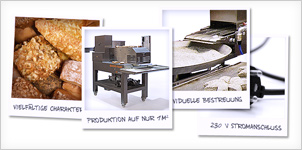 Simply create your desired FILIUS on our FILIUS Configurator.