EVOLUTION Donut- & Berliner Line
For the Industrial Donut and Berliner Production
The WP Kemper Donut line is perfectly aligned for the production of Donuts and Berliner. Due to the patented system its saving of resources is remarkable.
Various products can be produced with the modular Ring- and Ball-Donuts-Line. According to the slogan "think process" the Line can be enlarged to a fully automatic Ring- and Ball-Donut-System.
Extension to an automatic production line by Kemper Mixing Systems and Fryer
Remote Control
Hygiene Station
Stiffening Zone
Other weight ranges / capacities on request
Products
Berliner/Ball-Donuts
Mini-Berliner/Mini-Ball-Donuts
Donuts/Ring-Donuts
Mini-Donuts/Mini-Ring-Donuts
Long Donuts
Capacity
17 - 100 g (0.6 - 3.5 oz)
Berliner/ Ball-Donuts: up to 40,000 pcs./h
Donuts/Ring-Donuts: up to 28,000 pcs./h
Working width: 800 mm (31.5"), 1,000 mm (39.4"), 1,200 mm (47.2"), 1,540 mm (60.6")
Saving of fat by 50% (if required)
70% less scrap dough
The whole process from dough production till freezing
The perfect ring- and ball-donut shape
High plant availability
Highest product quality due to the WP Kemper Dough Ball System
Flexible, since different products, weights and volumes can be produced
Saving of resources due to high weight accuracy of the dough balls
World of products WP Kemper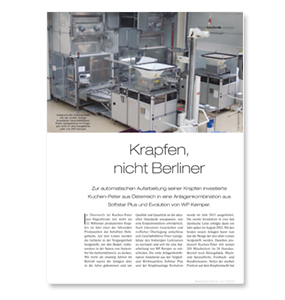 Krapfen, nicht Berliner
Kuchenpeter produziert jährlich 33 Millionen Krapfen und ist damit österreichs führender Produzent von Krapfen. Nachdem 2011 die erste Krapfenlinie installiert wurde, folgte im August 2012 die zweite Linie.

Success Story

Industrial Donut Production: premium technology and process skills, just like our slogan think process.